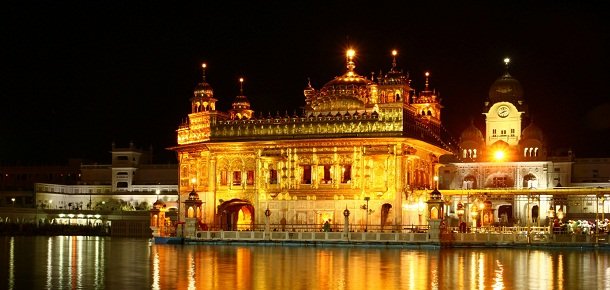 Golden Temple
Also known as Harminder Sahib, it is the most revered shrine of the Sikhs. The name Golden Temple originated as the sanctum sanctorum Akal Takht has its roof covered with pure gold plates. The Sikhs from all over the world come to visit the shrine at least once in their lifetime.

Jallianwala Bagh
In 1919, the British Police fired randomly on a peaceful assembly of people gathered in demand of freedom, which killed hundreds of men, women and children on the spot. The bullet marks on the boundary walls bring alive the agonizing tale of cruelty of colonial rule.

Maharaja Ranjit Singh Museum
A lot of visitors and tourists visit this museum to see the valuable antiquities and art objects, related to 18th and 19th centuries. This Museum is most important and cultural pride of the Punjab. It is famous for its rare and priceless collections, particularly Paintings, Weapons and Armours, Manuscripts & Coins.

Wagah Border
Another prominent tourist attraction in Amritsar is not a monument but a daily event. A little away from Amritsar at the India shares international frontier with Pakistan. Every evening, the change of guard among either national security forces, a handshaking distance apart, is a fantastic spectacle.

Sada Pind
"Sadda Pind" Connects you with the heritage of Punjab. It is a Punjab Village resort spread across 12 acres of land located on the outskirts of Amritsar on Attari border road giving you an experience of the traditions of Punjab that too near the country's border touching Pakistan. It has beautiful mud houses, lassi being churned, a woman singing a soulful melody, a youngster breaking into a joyful bhangra and where you can experience the authentic culture, colors and flavors pf Punjab in one place.

Durgiana Mandir
Durgiana Mandir is the most sacred place in the entire Durgiana Complex. The multi colored illuminations of this area on the eve of Janam Ashtami, Dussehra and Diwali get reflected in the shimmering water of the sacred tank and present a heavenly sight for the gods to watch.

Gobindgarh Fort
Gobindgarh Fort – the very symbol of Punjab. A symbol of the times when Punjab was forged. Spread across a grand 43 acres, right in the heart of Amritsar city, this magnificent, heritage site has a glorious history of its own, spanning across 257 years – right from the era of the Bhangi Misl to the time of Maharaja Ranjit Singh- to The British East India Company to The Indian Army to now, when finally, it opens its gates to the people of Punjab.

Jang-e-Azadi Memorial
Jang-e-Azadi Memorial is a memorial and museum being built in Kartarpur town of Punjab, India, in memory of contribution and sacrifices made by the Punjabi community in Indian independence movement. The memorial will be built over an area of 25 acres at the cost of Rs 200 crore.
Hotel 42 © 2018. All Rights Reserved.